These past few weeks have been incredibly exciting! With the release of the final trailer, soundtrack samples, DOS Extended Edition, and more, it's a great time to be a Tolkienist! As we slowly approach the final chapter of the Middle-earth saga I'm slowly ticking down the days with some help from a few blocks...
...LEGO blocks to be exact. If you have all (or even only some) of the LEGO Hobbit sets you can participate with me! Basically, the idea is to display or play with one Hobbit set every two days for the last 30 days until The Hobbit: The Battle of the Five Armies hits theaters - an advent calendar of sorts. Starting with
#79003
, An Unexpected Gathering (Bag End) we can travel through the story of The Hobbit piece by piece (pun intended). Feel free to use my list below as a guide and have fun!
Days 30/29 - November 18/19: Bag End - An Unexpected Party
Please ignore the long duster on the poll - cleaning
was should have been in progress at the time. :-)
Here's my example for November 18th and 19th (which will be 30 and 29 days to go respectively). I have it out by a desk I work at a lot so it's somewhere easily visible. On the front side I have Bilbo's morning visit with Gandalf from chapter I and on the back I feature the Unexpected Party (see below).
Days 28/27 - November 20/21: Rivendell - A Short Rest
LEGO has not produced a set based on the chapter titled, "Roast Mutton" so you can skip to Rivendell and use the LotR set and swap the minifigs. Consider displaying different scenes from the Company's stay (their arrival, dinner (as see in the AUJ EE), Elrond's examination of the map, etc.).
Days 26/25 - November 22/23: Goblin Town
Days 24/23 - November 24/25: Riddles in the Dark
Days 22/21 - November 26/27: Attack of the Wargs - Out of the Frying Pan Into the Fire
If you want to stay true to the movie, replace Yazneg with Azog. If you want to stay truer to the book, replace the orcs with the goblin minifigs used a few days ago.
Days 20/19 - November 28/29: Flies and Spiders
Sadly, no set featuring Beorn's house was produced. If you wish, take a stab at building your own though! If not, skip along to Mirkwood with us. If you want to be a purist for these days don't display the elves with the spiders and the dwarves at the same time. ;-)
Days 18/17 - November 30/31: Into Dol Guldur
Use all or some of the Dol Guldur sets and set up the scene featuring Gandalf going into Dol Guldur alone.
As much as we know from Tolkien's texts though, he never went here by himself during the time of The Hobbit
, so if you're a purist you can leave the Mirkwood set up (because the Company was in there for a very long time) or add your own display (e.g. Beorn's house).
Days 16/15 - December 1/2 - Barrels Out of Bond
Days 14/13 - December 3/4: Barrels Out of Bond Part 2
If you're a purist you'll really want to leave this part out. Since its based on the (in)famous barrel sequence from DOS, feel free to add a little stream and/or some barrels.
Days 12/11 - December 5/6: Entering Lake-town - A Warm Welcome
There are many different ways you could set up this scene based on the book or film. Remember to add the newest Lake-town set (pictured below with days 8 and 7) for an even bigger display.
Days 10/9 -
December 7/8: Erebor - Inside Information
I'm planning on setting up Bilbo's encounter with Smaug on day one and then the dwarves' attempt to kill the beast on day two (with the furnaces as seen in DOS).
The dwarves included in this set feature costumes from the last film (with battle armour) so consider swapping them with other versions.
Days 8/7 - December 9/10: Fire and Water
Use both Lake-town sets and Smaug to re-create the dragon's dramatic attack and demise. Consider also adding some fire elements.
Days 6/5 - December 11/12: The White Council's Assault on Dol Guldur
Combine the Dol Guldur sets (and Saruman from the LotR sets) to envision what should be an amazing sequence in the last film, a battle glossed over in Tolkien's notes, the White Council's assault on Dol Guldur. If you want to learn more about this ruined fortress and what Tolkien actually wrote about it check out
this post
I wrote a little while ago.
Days 4/3 - December 13/14: The Battle of Five Armies
Round up all your extra orcs, trolls, ballistas, eagles, dwarves, elves, men, wargs, Gandalf, Bilbo, and Beorn and amass them together in one huge battle around this fantastic piece of ruined Dale from the official LEGO set (which I recently received from my Grandparents as a birthday present so big thank-you shout out to them!).
December 15/16 - Days 2/1: Bag End - The Last Stage
Finally, during the last few days return to Bilbo's cozy Hobbit hole. Or, alternatively, display some of your favorite scenes again all at once right before the film opens on December 17th!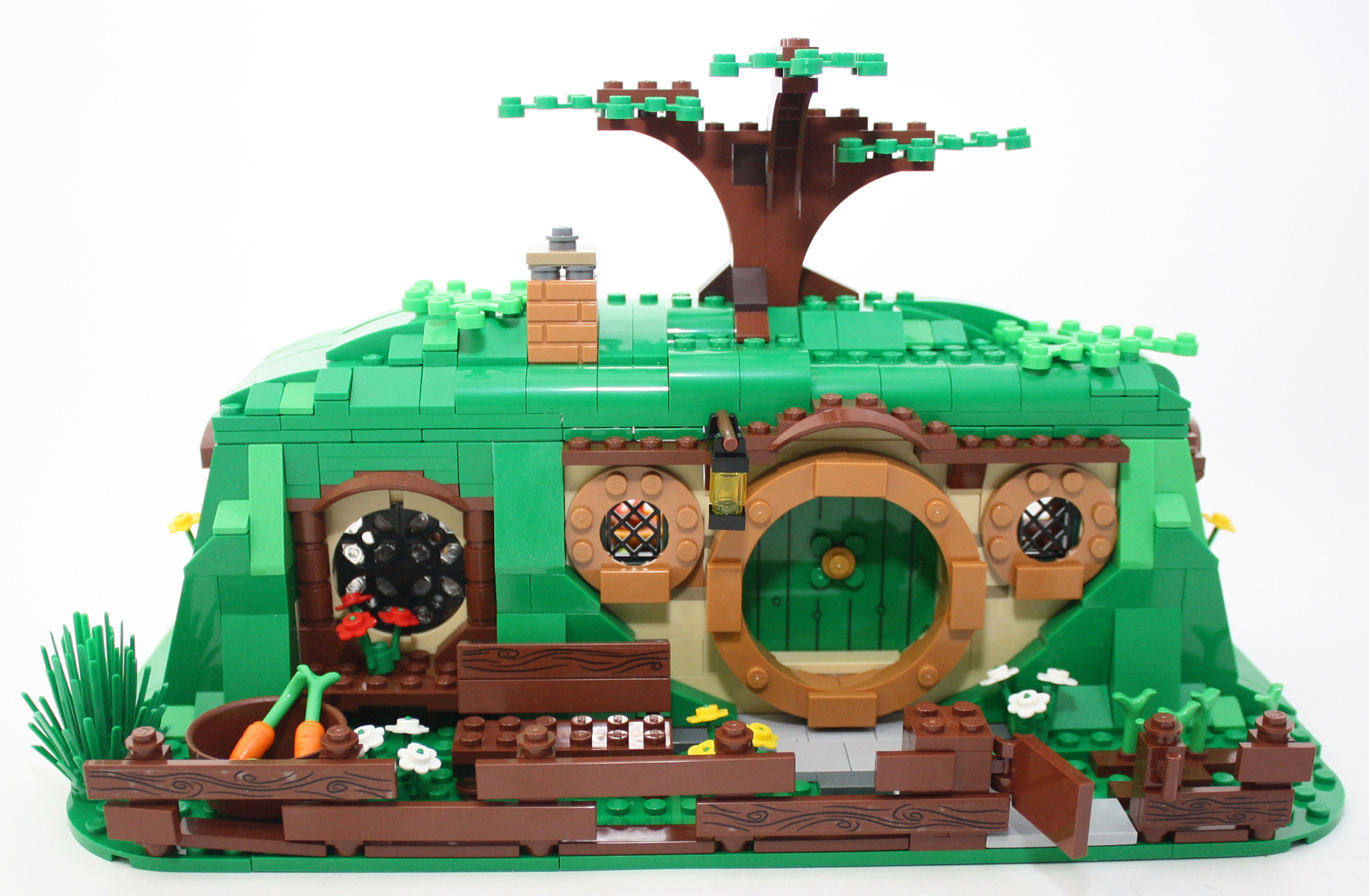 If you would like more information for the LEGO Hobbit sets I suggest this page on Brickset:
http://brickset.com/sets/theme-The-Hobbit
If you click on the title of a set you'll be brought to a page containing links to online retailers that carry the product.